Caxambas Publishing - Making History Come To Life
Into the Florida Wilderness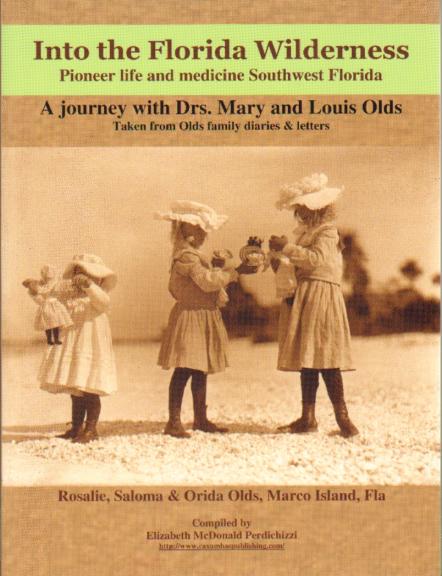 Into the Florida Wilderness, Pioneer life and medicine Southwest Florida, "A journey with Drs. Mary and Louis Olds

"

Compiled by Elizabeth McDonald PerdichizziPublished September 1, 2013
The book is based on fascinating first-hand accounts of life on the edge of civilization before Florida became a tourist and snowbird haven. The story is told in first person through the lively written diaries, photographs, and letters of three growing daughters of homeopathic doctors Mary and Louis Olds who lived on Marco Island from 1903 to 1920.

How do you preserve food without refrigeration? Not only that but Mary's challenge was to create a cultured home, and educate her daughters in a place without roads, electricity, sewage, running water, hospitals, churches, or grocery stores. Wealthy and socially prominent people from the north were attracted to their modest home two-story home on the Marco River becoming friends and sharing beach picnics and family suppers. Names like Pinchot, Hornaday, Fielding, Dimock and Halderman float through the narratives like next door neighbors.

ISBN 978-0-9677281-9-3 $19.95
To pay by check or money order cilck here
Prefer an ebook?
(click on the proper format)
Nook Kindle